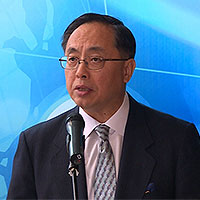 Secretary for Innovation & Technology Nicholas Yang
Last year Hong Kong and Israel signed a memorandum of understanding with the aim to fostering the economic development of both Hong Kong and Israel through the promotion of technology development.
The Innovation & Technology Commission and MATIMOP, which is the Israeli Industry Centre for R&D of the Office of the Chief Scientist in Israel, have since been working closely together to design a joint R&D co-operation programme. Under this programme Hong Kong and Israeli companies engaged in R&D collaboration can apply for government funding for their joint R&D projects.
I am glad the efforts are now bearing fruit.
The launch of the Hong Kong-Israel R&D Co-operation Programme is indeed very timely. It follows the establishment of the Innovation & Technology Bureau. We certainly look forward to this programme's contribution to Hong Kong's innovation and technology development, particularly in re-industrialisation and human capital, because we know the Israelis are very smart.
Israel is at the forefront of science and innovative technology development, and it is one of the few places in the world where everyone will always look to find the latest and the best ideas.
Hong Kong's strengths in technological R&D are our excellent technology infrastructure, robust legal system and intellectual property protection regime, as well as our world-class tertiary institutions and outstanding R&D talents. Our business community, well recognised for its creative ideas and acute business sense, is connected and attuned to the markets in this region and especially the Mainland of China. When the business and technology communities of both Hong Kong and Israel join forces they will no doubt generate sparkles that will shine in the global technological landscape.
The Hong Kong-Israel R&D Co-operation Programme marks a new milestone in our endeavour to forge closer ties in the private sector, creating new opportunities, and, perhaps the most important of all, make new friends and partners.
Secretary for Innovation & Technology Nicholas Yang gave this speech at the reception for the official launch of the Hong Kong-Israel Research & Development Co-operation Programme.