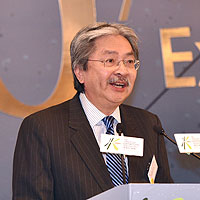 Financial Secretary John Tsang
It is indeed my great pleasure to join you all here today for the annual Christmas luncheon of the Hong Kong Exporters' Association, and of course, for the celebration of the 60th anniversary of the Association.
I know something about the big 6-0. Some say, turning 60 means your favourite TV station is now the weather channel, and turning 60 means that your parties, your really rowdy parties, never wake up the dog, let alone the neighbours, and also your all-time-favourite rock songs are now elevator music.
That's one version. But to me personally, and I guess to many of you here today as well, reaching the milestone of 60 is actually quite a nice experience. Like many others, I still enjoy going to work every day, meeting different people, trying out new things, attending various functions organised by business chambers and associations, and enjoying lovely luncheons like today. And I rarely watch the weather channel.
To the business sector and also community at large, the Association's achievements in the past 60 dynamic years, in fact, represent the triumphs of Hong Kong. So for the Association, it is indeed sweet 60, and it is worth much celebration.
The Hong Kong Exporters' Association, as we saw the slides, was established a few years after the Hong Kong Cotton Spinners' Association, which is a reminder of our post-war textile roots. And if those beginnings were coloured by dark days, Hong Kong manufacturing and Hong Kong exporting soon took off, fueled by an abundance of inexpensive labour, available capital, relevant experience, world-beating flexibility and inexhaustible energy, determination and ambition.
Export numbers
Most of that, I'm pleased to say, is still very much the reality that we have today with our export sector; with trading in general. The numbers bear that out. Hong Kong's total export value last year reached $3.7 trillion, a year-on-year increase of 3.2%. That is not bad at all given the weak general economy. According to the WTO, we were the world's ninth- largest trading entity and the ninth-largest exporter in merchandise trade in 2014. As trade goes, so goes Hong Kong.
Altogether, our import-and-export trade industry counts about 100,000 companies, and employs nearly half a million people. That, by the way, accounts for the largest share of our total employment. And we want to keep it that way, which is why the Government is keen to ensure appropriate support for this industry, in particular when we are expecting a difficult time ahead.
Indeed, the global economic outlook is not exactly rosy. While the US economy is expected to see moderate growth this year, other advanced economies are faltering. Export-dependent Asia has also seen an almost across-the-board slowdown. Against this global backdrop, Hong Kong's exports of goods are expected to remain weak in the near term.
Our merchandise export performance was disappointing in recent months, reflecting flagging global demand and its dampening effect on regional trade flow. For the first 10 months of 2015, the value of goods exports dropped 1.7% year-on-year, while the value of goods imports decreased by 3.6% over the same period.
Industry support
Facing the many stern challenges ahead, we have put in place a host of supporting measures for the export sector, in particular for the SMEs who are virtually the backbone of our trade.
This year, we've added a number of enhancement measures to the SME Export Marketing Fund that helps SMEs through export promotion activities. These include relaxing grant use conditions and expanding the Fund's scope to cover media and e-platform activities.
We have also extended the application period of the special concessionary measure under the SME Financing Guarantee Scheme to the end of February 2016. The programme helps companies get loans in the commercial market.
Two years ago, the Hong Kong Export Credit Insurance Corporation introduced the Small Business Policy, under which policyholders enjoy a waiver of the annual policy fee and a premium discount of up to 20%. The scheme has been well received. At the end of September this year, more than 1,500 applications had been approved, with the insured business value amounting to some $6.2 billion.
This year, the Corporation enhanced its insurance services to SMEs. The maximum liability of the Small Business Policy has doubled, to $10 million per policy, with an additional HK$5 million for pre-shipment coverage. The Corporation has also launched a Trade Association Referral Programme, under which Association members are entitled to benefits - if you submit proposals before next March and eventually become policyholders.
Boosting competitiveness
We are also stepping up our efforts on the government-to-government level to help Hong Kong companies to launch into new markets, through bilateral agreements signed with other economies as well as trade promotion campaigns undertaken by the TDC.
As you know, more than 50% of our total exports are destined for the Mainland, our largest trading partner. CEPA, our free-trade arrangement with the Mainland, certainly helps fuel those exports. Some 1,800 products now enjoy zero tariff preference, thanks to CEPA, and the total export value of the goods under CEPA exceeds $73 billion, with tariff savings of more than RMB5 billion. And, rest assured, we shall continue to explore other ways to enhance the competitiveness of Hong Kong products in the ever-expanding Mainland market.
I am glad to report that our regional exports to the ASEAN region, a massive market covering 10 nations and a total population of over 600 million people, are also growing. In the first three quarters of this year, Hong Kong exports to ASEAN increased by 8.4%, year-on-year. And, during that period, our exports to Vietnam alone soared by 18%.
I'm confident that our exports to ASEAN will continue to expand when our free trade agreement comes into force. The FTA covers trade in goods and related issues, trade in services, investment, economic and technical co-operation, as well as dispute resolution. The fifth round of negotiations between Hong Kong and ASEAN finished just a few days ago here in Hong Kong, with the final three rounds, three rounds left, scheduled to take place next year.
Trade road
And there's more - much more - down the export trade road for Hong Kong, thanks to the visionary and far-reaching Belt & Road initiative, championed by President Xi. The Belt & Road initiative is designed to deepen co-operation in policy co-ordination, in facilities connectivity and unimpeded trade, financial integration, and people-to-people bond among 60-plus countries spanning Asia, Africa and Europe.
The development of the Belt & Road initiative will certainly increase the volume and intensity of international trade and investment flow among the economies along the twin corridors of "the Belt" and "the Road". It will also expand two-way traffic in and out of Mainland China.
Hong Kong is the natural financial, business and trade hub of the Belt & Road. And to ensure our place in the fast lane of the Belt & Road, the Government will continue to work with our trade partners in concluding bilateral as well as plurilateral trade and investment agreements. We also have plans to streamline our customs-clearance arrangements, and strengthen co-operation with economies along the Belt & Road on border control issues.
Ladies and gentlemen, please rest assured that we shall continue to do everything that we can to enable trade and investment, and to ensure that you and your business can take full advantage of the promise of the Belt & Road initiative, and continue to thrive for the next 60 years or more.
My congratulations to the Hong Kong Exporters' Association for your success over the past six decades. And again, thanks for inviting me to lunch.
I wish you all happy holidays, and a prosperous and successful 2016.
Financial Secretary John Tsang gave these remarks at the Hong Kong Exporters' Association Diamond Jubilee & Christmas Luncheon 2015 on December 7.