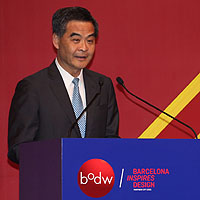 Chief Executive CY Leung
Hong Kong is Asia's world city, a metropolis located at the heart of Asia. Home to a diverse and dynamic community and inspired by the interaction between the East and the West, Hong Kong celebrates excellence and embraces creativity.
Unique advantages
No less vital to Hong Kong's future is our role as the super-connector between the Mainland of China and the rest of the world. Our "one country, two systems" arrangement gives us advantages no other economy can match. As the southern gateway to the Mainland, connected by history, culture and outstanding business and family ties, Hong Kong offers effortless access to the vast promise of China, the world's second-largest economy.
Those advantages will become even more important as China rolls out its ambitious Belt & Road initiative. The Belt & Road plan has been designed to drive economic and cultural connectivity among some 60-plus economies spanning Asia, Africa and Europe.
In this far-reaching initiative, Hong Kong will have a key role to play. As Mainland and overseas companies boost their business collaboration, Hong Kong will be the first port of call they turn to for design services and strategic branding. Thanks to our deepening economic integration with the Mainland. Thanks, too, to our professional services strengths - in finance and logistics, to be sure, but also in design, culture and more.
Burgeoning industry
Design is one of Hong Kong's fastest growing creative industries, having more than doubled its value added to the economy over the past decade. Vibrant and outward looking, our design community is blessed with close ties with designers from all over the world. It's also super-charged by the Mainland, our largest export market for design services.
We attach great importance to promoting design in Hong Kong, to nurturing Hong Kong as a regional hub for creativity and culture. It's why the Hong Kong Government is proud to be a major sponsor of BODW, pleased to be part of its growing global business.
Chief Executive CY Leung gave these remarks at the Business of Design Week 2015 opening ceremony.