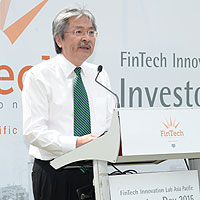 Financial Secretary John Tsang
In the longstanding marriage between finance and technology, I'd say that the ATM, or automatic teller machine, was among the first born.
The ATM's beginnings went something like this. About 50 years ago, John Shepherd-Barron, a Scottish inventor, urgently needed to withdraw some cash from the bank. Unfortunately, he was one minute late. The bank doors were securely locked, his money inside.
Bitterly disappointed, he returned home, decided to take a bath to cheer himself up. While soaking his sorrows in his bath he had a flash of inspiration: if vending machines could dispense chocolate bars, why couldn't they dispense cash as well? Simple idea.
Later that year he bumped into the Chief General Manager of Barclays Bank in the street. Shepherd-Barron managed to use 90 seconds to successfully pitch his idea for a cash-dispensing machine.
Since the first ATM started operation in London in 1967, that eureka moment that happened in Mr Shepherd-Barron's bathtub has been transformed into technology that has become a part of our daily lives.
In the era of digital banking, we're not exactly focused on building machines any more. Technology is revolutionising financial services, bringing us new challenges as well as brilliant flashes.
FinTech's potential 'off the charts'
According to a recent Goldman Sachs report, an estimated US$4.7 trillion of revenue from traditional financial services companies is up for grabs by technology-enabled newcomers. FinTech's potential, in short, runs right off the charts right from the beginning.
Which is why in this year's Budget Speech I announced the setting up of a Steering Group on Financial Technologies which is chaired by Secretary for Financial Services & the Treasury Prof KC Chan, comprising members from industry, academia, research and development and regulatory bodies.
In operation since April, the steering group is now looking at the economic and business promises of FinTech for Hong Kong; it's looking too at what must be done to make Hong Kong a FinTech hub. We should have the steering group's recommendations in the next few months.
In the meantime we're looking at other beginnings, the beginning of a new wave of entrepreneurship, the new beginning of start-ups in Hong Kong. According to the latest statistics there are now more than 1,500 start-ups in our city, an increase of nearly 50% when compared with last year. They have attracted hundreds of millions of dollars of investment from venture capitalists from different parts of the world.
Cyberport for example now supports 60 FinTech start-ups through its incubation and funding programmes as well as co-working spaces. And, in concert with Stanford University, Cyberport recently launched the Cyberport University Partnership Programme. And earlier this month, more than 50 students from five local universities completed a one-week, world-class FinTech entrepreneurship training course at Stanford.
As for the seven FinTech start-ups selected for this accelerator programme, is it just me or has someone else noticed that many of them - Bitspark, Ironfly, Sparrro, Moroku - they sound like budding rock groups? Of course, if their FinTech technologies take off that will be music to my ears. And to the financial services industry here as well. Indeed, in every one of these start-ups I can see a Shepherd-Barrons of the FinTech world in the making.
And that's just the beginning. After all, Hong Kong is one of the world's leading financial centres. We are also a major information and communications technology hub. With the ingenuity of our start-ups and with the concerted efforts of the Hong Kong Government, as well as industry and academia, I'm quite confident that Hong Kong will find its place as Asia's FinTech capital, and one of the world's leading FinTech centres.
Financial Secretary John Tsang gave these remarks at the 2015 FinTech Innovation Lab Asia Pacific - Investor Day at Cyberport.