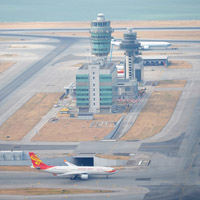 Secretary for Commerce & Economic Development Gregory So
What will China look like in the year ahead? Let me quote your founder Michael Bloomberg. This is what he said two months ago in New York at the Navigate the New Silk Road Seminar: "China was very introspective, and now it's looking out to the world in a really unique way. I think there's a lot of opportunity, and I think for those of us who deal with China, there's also a lot of opportunity."
I couldn't agree more. The visionary and ambitious concepts of the Silk Road Economic Belt & the 21st Century Maritime Silk Road, or Belt & Road in short, will present the world with an abundance of business opportunities in an unprecedented way.
This grand strategy encourages closer economic as well as cultural co-operation among some 60-plus economies, particularly those emerging economies spanning Asia, Europe and Africa. Belt & Road is, in essence, an invitation to the international community to join hands to take global and regional co-operation to new heights, in particular in terms of enhancing policy co-ordination, strengthening infrastructural facilities connectivity, facilitating unimpeded trade and investment, deepening financial integration and building people-to-people bonds.
Belt & Road will provide the much needed boost for the global economy to overcome its growth bottleneck and become the new growth momentum of the world. The big question for us is what we need to do to leverage on these new opportunities. And that is, I suppose, why we are here at this forum today, to brainstorm and map out a strategy to tap the massive opportunities in the year ahead in China.
Open to all
I know that some of you may come from countries that are not geographically covered by the Belt & Road and are generally not associated with the Silk Road. Belt & Road is nonetheless open to all. It is not confined to countries with a specific proximate geography, a specific historical circumstance or a specific economic situation.
By creating an open, inclusive and balanced regional economic co-operation architecture, jointly building the Belt & Road is definitely in the interests of the international community.
Allow me to spend the next few minutes sharing with you what makes Hong Kong a great partner for overseas businesses as they step out of their geographical boundaries and venture into the vast Belt & Road market.
First of all, Hong Kong may serve as the facilitator in financial activities. Belt & Road will trigger soaring investment in infrastructural facilities. As China's international financial centre, and one of the world's leading financial capitals, Hong Kong has all it takes, from our world-class market infrastructure and unparalleled business network to the robust legal system, to serve as the fundraising and financial management hub for countries along the Belt & Road.
Specifically, Hong Kong is the world's largest offshore renminbi business centre, providing international investors with renminbi services ranging from cross-border trade settlement to bond issuance. As trade and other economic activities along the Belt & Road expand, so, too, will the demand for renminbi trade settlement. Hong Kong can respond to that demand. After all, we've been handling the lion's share of renminbi trade settlement since its beginnings in 2009.
Facilitating finance
Hong Kong may also serve as the facilitator for trade and businesses. Our strategic geographical location, at the southern gateway to Mainland China, gives us unparalleled trade opportunities. Today, some 20% of the Mainland's international trade is handled by Hong Kong. We are serving as the super-connector, enabling overseas companies to enter the China market, while assisting Chinese enterprises in going global.
From air to road to sea, we provide shippers and suppliers with reliable transportation. Within five hours' flight time from Hong Kong, we can reach half of the world's population and most of Asia's thriving economies. Our port is among the top five busiest in the world. Our international airport is the world's busiest cargo airport.
What's more? Hong Kong may serve as a professional services hub as well. Hong Kong is blessed with a large pool of world-class professionals, with expertise in areas such as accounting, law, architecture, engineering management and more. These professionals can provide high-quality services beyond the provision of financial capital and expertise. They possess the requisite competence and experience to lead consultancies, construction projects, operations and management of the many infrastructures along the Belt & Road.
For Hong Kong to capitalise on the wealth of opportunities of Belt & Road that I just mentioned, we need to learn and understand the business opportunities and potential areas of collaboration with different markets, especially the many emerging markets dominating the landscape along the Belt & Road. We are thus moving proactively to strengthen the ties with these countries on the government-to-government level and to foster a deeper understanding of the political, economic and cultural make-up of these economies.
For example, our negotiation of the Hong Kong-Association of Southeast Asian Nations free trade agreement is progressing smoothly and we are looking forward to its successful conclusion in the coming year. The free trade agreement will provide a stable and transparent framework in which regional trade and investment can flourish.
Expanding networks
We are also actively expanding our networks of investment promotion and protection agreements, comprehensive avoidance of double taxation agreements and agreements on double taxation relief arrangements for shipping income, with a view to protecting and facilitating business co-operation between Hong Kong and countries along the Belt & Road. These exchanges will no doubt facilitate the drawing up of Hong Kong's specific strategies in seizing the opportunities ahead of us.
The Belt & Road initiative is not only set to fuel the development of the 60-plus economies along the routes; it will also bring great potential to other economies globally. China has offered the world this compelling vision. It will be up to you to explore and grasp the historic opportunities arising from it. Hong Kong is ready to make good use of our unique advantages to facilitate your journey into the Belt & Road.
Secretary for Commerce & Economic Development Gregory So gave these remarks at a forum organised by Bloomberg Businessweek.