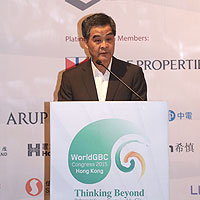 Chief Executive CY Leung
The World Green Building Council Congress has been called the "World Cup" of the green building industry. So it is, indeed, a great honour for Hong Kong to be hosting this year's Congress, this green building industry "World Cup" - and for the first time.
Most sports have an international federation to champion and administer at the global level. In the green building industry, that federation is the WorldGBC. My thanks to the WorldGBC, and our local hosts, for your splendid organisation, for bringing so many global leaders and experts to Hong Kong, here to exchange the latest developments on government policy and industry best practices.
While this "World Cup" is held in the highest esteem, it does present a fundamental departure from football traditions. You are not playing against each other on a football field. At least not this morning. Rather, you are fighting as one against a common foe: climate change.
I don't have to tell you that our opponent is more elusive, and far more dangerous, than an entire team of Messis and Ronaldos, and anyone else you might like to add. That said, I have no doubt that your remarkable resolve gives you - gives us, all of us - more than a fighting chance.
The power of collaboration, of working together, can make all the difference.
We're working hard and well together, in Hong Kong. When we first made a start in energy saving, some years ago, we began with our buildings. That's because they account for 90% of our electricity consumption and 60% of our greenhouse gas emissions. The next step - a little harder to agree on - was how we should go about it.
Towards energy-efficient buildings
Of course, the Hong Kong Government has a major responsibility in pursuing energy-efficient measures that benefit the community at large. And, in adopting energy-efficient building features for government buildings, we lead by example. Still, that affects only a small part of the city's building stock. Without the active buy-in of industry and business, the Government's best efforts won't add up to much.
Thankfully, we have their support. Our industry partner, the Hong Kong Green Building Council, HKGBC, was founded in 2009. Despite its relative youthfulness, the council has taken us to skyscraping heights, thanks to BEAM Plus, a holistic green-building labelling scheme. Thanks, too, to the council's success in raising community awareness of green building measures.
With the industry's support, the Government has pledged a 40% reduction in energy intensity by 2025, using 2005 as the base. Now you can see the Government's commitment to the global green building movement.
The business sector has the potential to do a great deal more too, and it should be. It is my view that the Government should be appropriately proactive, to help business commit to green initiatives when market forces may not be effective. And we are doing just that.
If property developers want to gain gross floor-area concessions, they must register for the BEAM Plus building environmental assessment.
Sharing experience regionally
Our collaborative efforts are not limited to Hong Kong. As the super-connector between the Mainland of China and the rest of the world, Hong Kong is perfectly positioned to use our connections, and our experience, on a regional level.
Ever since the Mainland began to open up to the world, more than 30 years ago, we have not strayed far from the wisdom of "crossing the river by feeling the stones", so the Chinese saying goes. Indeed, it is through this step-by-step approach that Hong Kong and the Mainland have flourished.
Protecting the environment and combating climate change is also high on the agenda of the Central People's Government. China's 13th Five-year Plan is expected to include an even more substantial commitment to protecting the environment.
That, to be sure, will require huge resources and considerable international expertise. As the business conduit between the Mainland and the world, Hong Kong can help the Mainland gain international experience, and showcase global expertise and experience in the Mainland.
There's another huge opportunity ahead of us too - that's China's Belt & Road grand strategy. The far-reaching initiative emphasises facility connectivity. That is only possible, however, if standards are aligned across the region.
Belt & Road opportunities
Since the infrastructural standards of most Belt & Road countries are only at the start-up stage, it would be opportune for the Mainland of China to share green practices with its regional partners through the Belt & Road corridor. Hong Kong can also contribute by sharing our experience in green construction and design.
Hong Kong has in fact come a long way in a short time. Last year, we took part in the World Sustainable Building Conference in Barcelona, with our Secretary for Development leading a delegation of 110. And here we are this week hosting the WorldGBC Congress.
Well, there's much more to come. In 2017, we welcome the inaugural World Sustainable Built Environment Conference to Hong Kong. It underlines our determination to become global leaders in driving the sustainable built environment. We are eager to share with the world our experience in promoting a sustainable built environment. I hope to see you all at the conference, here in Hong Kong, in June 2017.
I am sure you have heard about this - "The best time to plant a tree was 20 years ago. The second best time is now." It wisely speaks of our presence here today. Of our work and our shared vision. And by hosting the WorldGBC Congress, Hong Kong demonstrates our resolve to plant the trees, with all of you, together.
Chief Executive CY Leung gave these remarks at the World Green Building Council Congress 2015 Hong Kong.