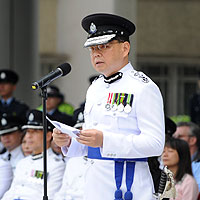 Commissioner of Police Andy Tsang
I will soon commence my pre-retirement leave after working for 37-odd years in the Hong Kong Police. The Force has changed beyond recognition since I first joined in 1978 and we are now a modern and professional police service dedicated to serving the people of Hong Kong.
For decades, the men and women of the Force – regular, auxiliary and civilian – have strived to make Hong Kong one of the safest and most stable societies in the world. Crime rates continue to drop and the streets of Hong Kong have never been safer. Many say we are Asia's Finest, even one of the world's best. One thing of which I am sure is that the Force will never rest on its laurels. We have a great deal of talent in the Force and I am sure our organisation will continue to be a success.
There will be many things that I will miss when I retire from the Hong Kong Police. Most of all, I will miss the camaraderie, the teamwork and the esprit de corps so characteristic of our organisation. These have been the cornerstones of our success and I have to thank you all for making this possible.
Commissioner of Police Andy Tsang gave this remarks at a Guard of Honour Ceremony on April 30.
Regards,
Otmane El Rhazi
Department of Commerce
Economic Development
Text/Mobile, +44 7414 782 320