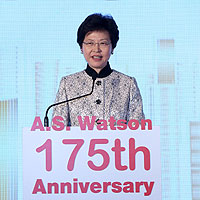 Chief Secretary Carrie Lam
The Government has launched the territory-wide "Appreciate Hong Kong" Campaign, with a view to encouraging the public to appreciate Hong Kong more - a beautiful, energetic, caring and efficient city - and a home which belongs to us and nurtures us with numerous opportunities. Apart from literally appreciating the city where we live, the campaign also means showing gratitude for Hong Kong, understanding Hong Kong and adding value to Hong Kong. I am pleased to note that the AS Watson Group will shortly announce an elderly-related project in support of the "Appreciate Hong Kong" Campaign. May I extend my gratitude to the group for enriching the campaign's programme.
Care for the elderly is one of the policy priorities of this term of the Hong Kong SAR Government. One of our major goals is to encourage active ageing. At present, there are more than 200 subvented elderly centres throughout the territory, offering various support services and activities to the elderly at district level, with a view to facilitating their participation in and contribution to the community. The Elder Academy Scheme seeks to encourage the elderly to lead a fruitful life through lifelong learning, while the Opportunities for the Elderly Project and the Neighbourhood Active Ageing Project encourage the elderly to actively take part in community affairs and volunteer services.
Indeed, caring for the elderly is not something new to the AS Watson Group. Over the years, the group has developed various initiatives on caring for the elderly. For example, the "Operation Warm" programme held in 2015 has mobilised volunteers to visit singleton and low-income elderly. Home appliances were provided to these needy elderly persons. The group is also a keen supporter of the Senior Citizen Card Scheme operated by the Social Welfare Department. Currently, more than a million Senior Citizen Card holders enjoy special offers for particular products at over 370 stores under the group, including supermarkets and electrical appliance stores.
Finally, I would like to thank the group again for its service and care to the community throughout the years. I am sure I can count on the group's continuous support in promoting the well-being of our senior citizens.
Chief Secretary Carrie Lam gave these remarks at AS Watson Group 175th anniversary cocktail reception.